We're the Millers is an action-comedy movie. It focuses on David Clark (Jason Sudeikis) a small-time drug dealer with no family who takes on a bigger job from his boss, Brad Gurdlinger (Ed Helms) to clear his debt which he lost from a robbery. David must now become a big-time drug dealer smuggler by bringing in Brad's shipment from Mexico. In order to get pass the police and border guards without raising any suspicions, David devices a plan to have a holiday with his non-existing family. Hence, he recruits debt-swarmed neighbour and stripper Rose (Jennifer Aniston), wannabe customer neighbour Kenny (Will Poulter), runaway pierced-skin Casey (Emma Roberts) to pose as a family to get to and back from the Mexican border.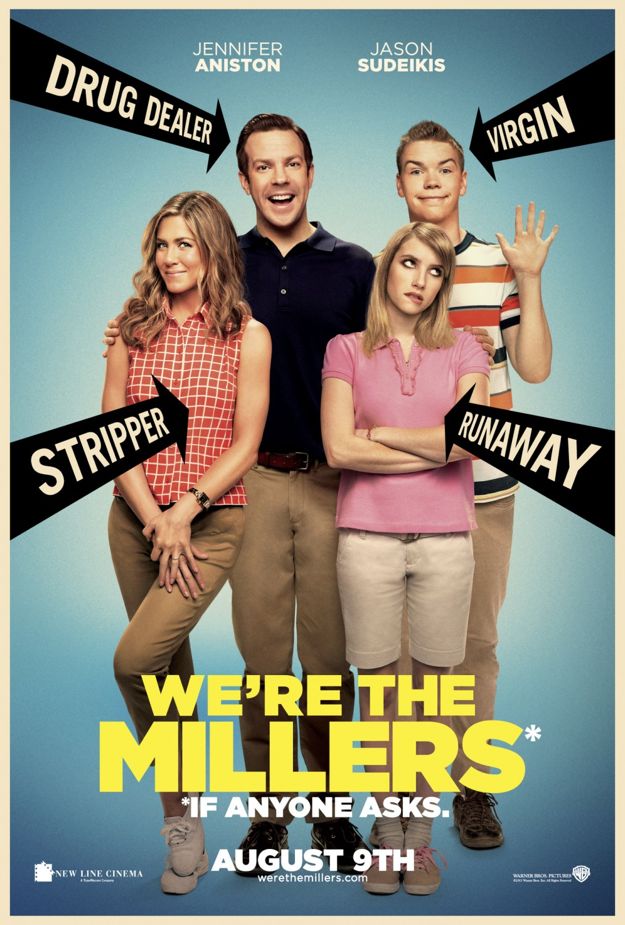 Photo taken from www.movieguide.org
All thanks to ChurpChurp, I went for the premiere of this movie with lower expectations as I had the mindset that movies that Jennifer Aniston acted in were usually... not so much of a hit. Also because it is a full-on comedy with parts of action here and there, I had the feeling that it may just be another comedy movie with the usual jokes and same plot. Well it proved me wrong actually! I expected the movie have the conventions of any other comedy movies, while that is partly true, one thing was that the jokes came out naturally unlike some comedies that I have watched which I find the jokes came off unnatural. Bear in mind that the jokes and some scenes can be implicit or explicitly X-Rated, well there are alot of X-Rated remarks in the movie. So, kids, stay away!
Image taken from www.youtube.com
This movie in a way serves as an ideological purpose when David decides to form a family, hence the typical American family is portrayed. It shows us the stereotypes of a typical American family or in general what should a family be like and how they should behave as a family. for instance, rose who is a stripper has to revamp herself to look more mother like: sensible shoes, modest dressing and pretending to have mother-like qualities. It deals with the troubled teen and shows the typical dilemmas that teens go through these days i.e. boy-girl relationships, rebelliousness, struggle with their sense of identity etc. which are quite stereotypical so to say but it is these themes that relates to the audience and would sell.
Image taken from www.famemonstersa.com
Image taken from www.femalefirst.co.uk
One thing which i find was totally off was the ending of the movie. The way that all four of them just decided to stick together as a family to continue to run the drug dealing business. I find that quite unrealistic. what happened to Casey's family? Won't they come looking for her? What about Kenny? Where is his mom? That was the only thing that I felt was left hanging. I thought that Casey would return to her family and Kenny would end up with Melissa (Molly Quinn) somewhere and Rose and David would end up getting married. so, the ending was a lil' off for me.
This 2-hours hilarious movie
left viewers laughing throughout the whole movie even as they were leaving the cinema hall. Not all parts of the movie is funny as there were some sentimental scenes as along the way, they got to learn more about each other and start to care for each other as a family. The plot is as it is, predictable of a typical Hollywood movie, good rules over evil with a happy ending. Even though it is X-Rated, but it still maintains the conventional codes and moral values of a comedy family oriented movie. I would give this movie a 7/10 and would suggest for you to go watch it when it hits the cinema! Relax, release all those tension that you have been having for the past week and catch the movie as it hits the cinema on 29th August 2013.